5

min read
The tale of the birth of the famous poet
The bare tale of Andal's life is a short one. Vishnuchitta the son of Mukunda Bhattar and Padmavalli was the head priest at the temple of Vatapatrasayi at Srivilliputtur. Vishnuchitta who is also known as Perialwar was a very learned and deeply spiritual person.
As an avid gardener he grew flowers and plants such as jasmine, rose, lotus, parijata and of course tulsi (Holy Basil) that were used in worship at the temple. He was tending to his garden one morning in the month of Adi or Ashadha when he was astonished to come upon a child under a tulsi plant. He and his wife Vrajai adopted the child, very happy to have a daughter.  They lavished much love and care upon the child naming her Kodai (in Tamil) or Godha (in Sanskrit). Godha proved to be an apt pupil of her learned father and soon mastered scripture, mythology and philosophy under his tutelage.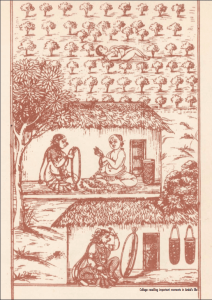 She accompanied her father on his regular pilgrimages to shrines of Vishnu all around Srivillliputtur and grew to love Tamil poetry due to his influence.
As the years went by, her father's devotion to Krishna had a great impact on Godha's personality.  She wrote very evocative verses that spoke of her ardent devotion to God, of her youthful enthusiasm at being His companion, of her friends and their surroundings all amidst Krishna's activities.
About the poet
The poetess Andal, pronounced Aandaal, lived in Srivilliputtur in Tamil Nadu. She is one of the twelve Alwaar, a Tamil word literally meaning Immersed in God. They were Vaishnava saint-poets who lived between the 5th and 8th century CE in South India.
Andal has had a deep impact on religion and literature with her two works said to be the gist of the wisdom of the Upanishads.
Andal, the only female saint in the Vaishnava tradition, captures interest due to the sheer force of her poetry and her dramatic life that epitomised bhakti (devotion to God). She is traditionally depicted as a young girl in the prime of youth, a garland around her neck, her hair coiffured distinctively on the side of her head and a parrot embodying beauty and intelligence on her hand.
Even today, a figure of a parrot fashioned of recitations, discourses, dance and music performances especially in the winter month of Maargali or Margashira. The second of Andal's compositions is the Nachiyar Thirumoli – Poems of the Lord's Bride.
Is Andal her real name or stage name?
Godha's life took an unforeseen turn as she grew older. One day, the officiating priest at the temple found a long strand of hair in the garland brought by Vishnuchitta just as he was about to place it on the idol.
He immediately informed Vishnuchitta of this sacrilege. The furious father confronted his daughter. She confessed to wearing the garland everyday, admiring herself in the brass mirror or well and imagining herself to be Ranganatha's bride before handing it over to the unsuspecting priest.
Vishnuchitta was so shaken by this incident that he did not make any garlands for a few days. This episode culminated in Ranganatha Himself appearing in Vishnuchitta's dream and asking him why there had been no garlands for Him recently.
Vishnuchitta recounted his daughter's misdeed. However, to his great reassurance and delight Ranganatha assured him that no wrong had been committed – He was most pleased to wear the garlands that had earlier been worn by Godha. "Don't you realise the fragrance of the flowers are enhanced after Godha has worn the garland?", he asked. Henceforth Godha was called Sudikuduttha Nachchiyar – The girl who offered to God garlands earlier worn by her.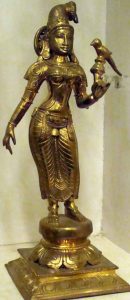 At this time Godha had reached the then marriageable age of fifteen years and her father began to search for a suitable groom. Godha however was adamant that she would marry no one but Lord Ranganatha of Srirangam. Intially her father was perplexed and taken aback. However, he had to relent in the face of her fervour. Legend has it that the lord Himself appeared in Vishnuchitta's dreams and told him to bring his daughter to Srirangam. Simultaneously, He commanded the priests at the temple to prepare for the wedding. Godha was anxious and eager as the hour she had been waiting for all her life approached.
The wedding procession comprised Godha in a palanquin, accompanied by her parents, the Pandyan King Vallabhadeva, his queen and entourage. The whole route up to the temple of Ranganatha on the banks of the Kaveri at Srirangam was decorated with toranam of flowers, palm and areca fronds and mango leaves.
At the temple, she hastened forward in all her bridal finery towards the idol in the sanctum sanctorum and, as the contemporary accounts put it, merged with the Lord.
After the momentous occurance of Godha merging with Andavan (Vishnu) she was called Andal, She Who Reigns.
Writer- Padma Raghavan & Savita Narayan
Photographs- J. Chandrasekaran
Illustrations courtesy: Sri Sadagopan Tirunarayana Swami, Divya Prabandha Pathasala
Copy Editor- Ankita Badoni