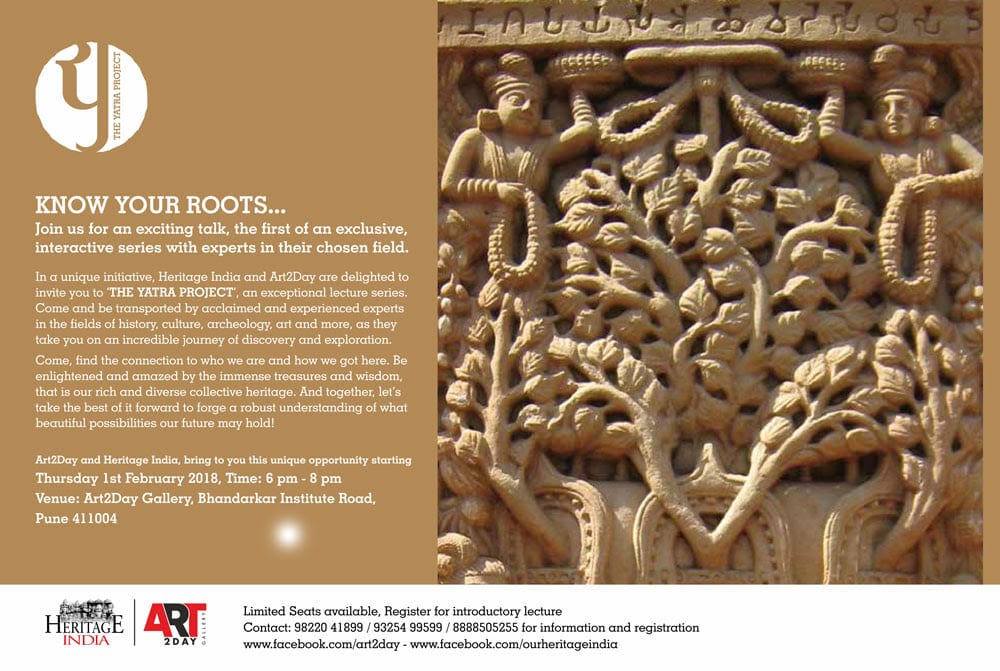 THE YATRA PROJECT – KNOW YOUR ROOTS.
On 1st February 2018, Heritage India (Publishers of the well-known Magazine Heritage India) and Art2Day (Oldest and Active Art Gallery and Art activity Centre) presents to you – "THE YATRA PROJECT" – a journey to know your roots, wherein both Heritage India and Art2Day have joined hands to come up with an exclusive series of lecture and activities.
We believe Heritage is our common responsibility and we should understand it in the company of experts to carry it forward for the next generation. With this sole intention, we start this Yatra from 1st February 2018.
Eminent Scholars like Dr. G.B.Deglurkar, Dr. Manjiri Bhalerao, Shri Udayan Indurkar, Shri Anand Kanitkar, Dr. Shreenand Bapat, Dr Vijay Sathe, Ar. Preeti Dhanwat and Shri Ashutosh Bapat would be conducting interactive sessions in this YATRA and will be a part of this project. There will be nine interactive lectures and field trips. These field visits will be to city museums, the neglected gems of the city.
So come and be transported by acclaimed and experienced experts in the fields of history, culture, archaeology, art and more, as they take you on an incredible journey of discovery and exploration.
 
Come, find the connection between who we are and how we got here. Be enlightened and amazed by the immense treasures and wisdom that is our rich and diverse collective heritage. And together, let's take the best of it forward to forge a robust understanding of what beautiful possibilities our future may hold!
Giving a future to the Past…
Topics and the Speakers
01/02/18 – Dr. G B Deglurkar – Importance of Heritage
08/02/18 – Shri Anand Kanitkar – Rock Cut Caves
15/02/18 – Shri Udayan Indurkar – Ecstasy in Stone
22/02/18 – Dr. Manjiri Bhalerao – Discovering the Brahmi script and history of coins
01/03/18 – Dr. Shreenand Bapat – Manuscripts 
03/03/18 – Karle Bhaje Caves Trip   
08/03/18 – Dr Vijay Sathe – Stone Age
15/03/18 – Ar. Preeti Dhanwat – Regional Art
22/03/18 – Shri Ashutosh Bapat – Heritage of Odisha