2

min read
Small shrewd eyes, large ears that miss nothing, long nose and mouse as a vehicle- Lord Ganesh, a symbol of wisdom and knowledge! Being one of the most popular deities, Ganesh is the presiding deity of a festival that is celebrated with great enthusiasm in the Hindu month of Bhadrapada. Although the festival is elaborately celebrated in the states of Maharashtra, Karnataka, Goa, Andhra Pradesh and Tamil Nadu, Maharashtra is the state that witnesses maximum grandeur. The surrounding area of the festival witnesses huge pendals being set up in the city along with stalls put up with various sizes of Ganesh idols. Being celebrated at an individual as well as community level, the spirit of celebration is seen all over the city.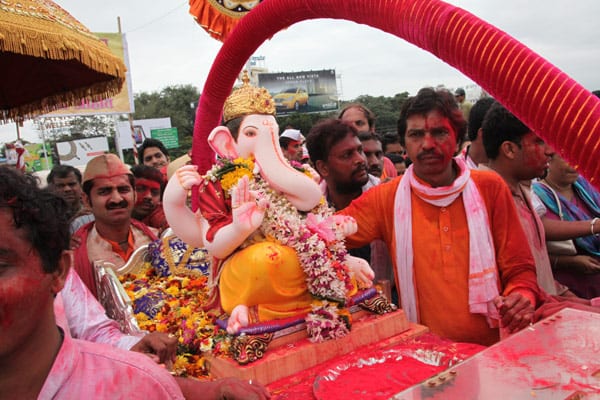 Although the first celebration of Ganesh Festival in Maharashtra is unclear, historical records reveal that Ganesh Festival was initiated by Shivaji Maharaj. Lord Ganapati was the family deity of the Peshwas, after whose rule, the festival remained a family affair until Lokmanya Tilak transformed it into a huge public event.
This ten day celebration begins with the installation of the idol, after which it is worshiped every day until Anant Chaturdashi, the tenth day, when the procession of the idol is taken out to the nearest water body for immersion. Ganesh festival in Maharashtra also celebrates Gauri Poojan. Images of Goddess Jyeshtha Gauri along with her sister Kanishtha Gauri are decorated and worshiped for three days.
In order to resolve the issue of which Ganapati would be the first in the last day procession in Pune, Lokmanya Tilak suggested that the five Ganapatis namely: Kasba Ganapati, Tambdi Jogeshwari, Guruji Talim, Tulshibag and Kesari Ganapati would get the honour of leading the procession. They are known as maanache ganapati. The same tradition is followed till date.
The writer of the article is: Aruna Dhere,Varsha Gajendragadkar. 
The blog is written by: Soliya Phadnis-Dantas