7

min read
The Salar Jung Museum at Hyderabad in India has an amazing collection of almost 1000 jades, perhaps the biggest in any museum of the world. Collected by a connoisseur of art, Nawab Mir Yousuf Ali Khan, Salar Jung III (1889-1949), a quintessential royal premier from an illustrious family of the Deccan whose five members served as prime ministers in the erstwhile Nizam rule of Hyderabad state in India, whose large collection of over 43,000 objects d'art covers diverse Indian, European and Far Eastern art; the Mughal jades are highly mentionable for their beauty, variety, sheen and almost surreal character. Why is Jade, a semi-precious mineral been termed as pa-zahar by the Persians, one might wonder. The translucent greenish or creamy white jade was believed to possess amazing properties. Thought to be an antidote to poison, the royals of yore preferred to use jade. In both Persia and India many containers, bowls, waterpots, wine and sherbet cups have been made out of jade during the long 18th century. Jade is believed to help in dream solving, support creativity and give protection.  It was believed to be a "victory weapon" if the dagger or sword hilt was made of jade!
The art connoisseur's choice
The Salar Jung collection has pendants, exquisite bowls, mirror-backs, talismans, armlets, boxes, dagger handles, bowls, wine and sherbet  cups, archery rings, hookah mohnals, chess and "chausar "sets (an ancient Indian game) and archery rings among others. The jade vessels made during the reign of Emperor Akbar (1556-1605 A.D) were heavy with less decoration, mostly using the dark green variety. The craft of jade carving reached efflorescence during the period of Mughal  emperors Jahangir (ruled 1605-1627 A.D) and Shahjahan (ruled 1628-1658). Both were patrons of art and architecture. Jahangir preferred the pale-green shades of jade, while Shahjahan liked white jade. Emperor Jahangir had visited the beautiful  valley of Kashmir in 1620 and a refined style of jade carving emerged with floral and vegetal decoration. The designs of stems, leaves and flowers are very similar to the marble inlays at Mughal monuments like the Red Fort, the Diwan-e-khas of Fatehpur-Sikri and the Taj Mahal. The wine cups from Emperor Jahangir's period depict fruits, flowers and vine creepers. The hunting knife of Emperor Jahangir, Queen Noorjahan's fruit knife and Emperor Aurangzeb's dagger with jade handles are in the collection.

Jade art ranks among the world's finest and the Mughal jades are exemplary. Emperor Jahangir's hunting knife in Fig. 1 has the hilt made of white jade and is studded with carved rubies, emeralds and uncut diamonds set in floral and leafy patterns. The dagger hilts under Jahangir have the heads of lions,horses,camels, goats and parrots. These were superbly carved and naturalistic. The animal head motif was most probably introduced by the Europeans lapideries in the Mughal courts, inspired by The scroll head ornamentation of Renaissance art. The scabbard is brocaded and a jade tassel fixed to the handle with a silk thread has floral designs inlaid with rubies and emeralds makes an overall stunning visual!
The jade fruit knife or kard (a straight blade) in Fig. 2 belonging to Mughal queen Noorjahan (wife of Emperor Jahangir) has a white jade hilt which is worked with ruby pieces at both ends, the upper end shaped like a parrot's head. The mid portion has encrusted emeralds set in gold leaves. The brocaded scabbard has gold band sheath and ferrule is with carved emeralds. Fit for a queen!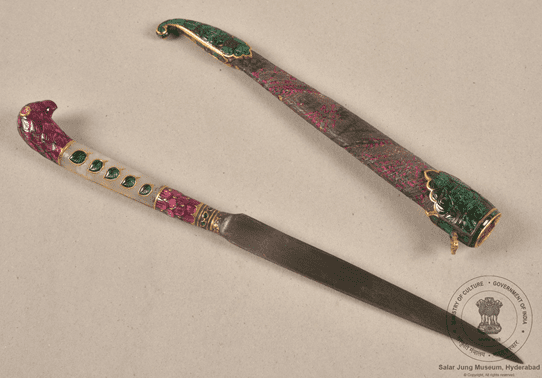 The dark green jade archery ring from 1040H or 1630 A.D in Fig. 3 has the inscription Sahib-e-kirani sani, the second Lord of the Conjunction, in gold calligraphy, a title adapted from his ancestor Timur by Emperor Shahjahan. Archery was a favourite among the Mughal royals and nobles. Jade archery rings were worn for protection from injury to the thumb while pulling the bow-string.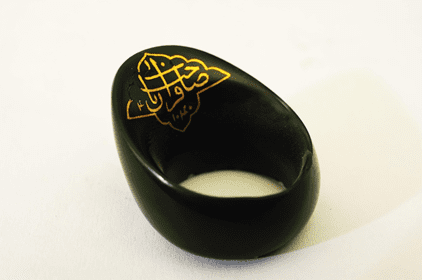 An ornate jade spice box (image below) set on a dish having four compartments with a lid which is encrusted with precious stones. A rounded creeper motif is on the dish with a leafy plant pattern on the container. Gold borders delineates the lid, container and the dish-base. A regal treat to the eye !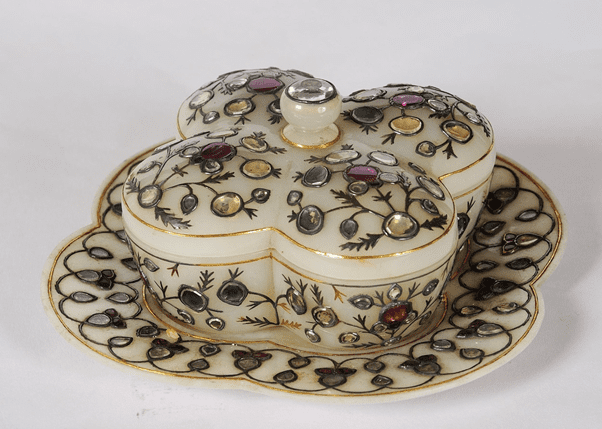 Depicted below is an 18th century Indian grape-coloured  inscribed jade 'sherbet' cup. The translucence of jade gives it a special mystique.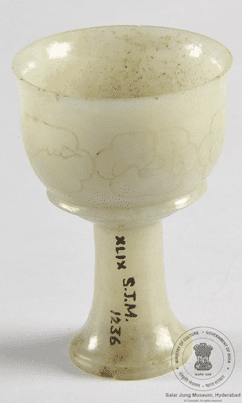 The fashioning of Mughal jades
The Mughal jades were made from jade deposits imported from Kashgar in Central Asia. Mostly the nephrite variety, made up of silIcate compounds of calcium and magnesium with iron in traces. In Mughal courts were present Persian and European craftsmen who excelled in their art. Lapideries are mentioned in the Ain-i-Akbari by Abul Fazl, prime minister of Emperor Akbar. The jades were carved by sawing into blocks with a bow or string saw, shaped and polished by abrasion with metal grinding plates and stone drills. The use of metals like gold and gems like diamond,sapphire,ruby and emerald set against the white or pale green jade background created a magnificent effect. Encrusting stones gave the objects a royal status. Emperor Jahangir loved flora and fauna and it was reflected in the jade objects. Jahangir loved all things Persian and his jades were based on Persian metal models. The inlay of gold and calligraphic panels were from the Holy Quran or couplets from Persian literature. His love for flora depicted lines moving to form tendrils and ornate leaves. The art got even more refined and depicted more delicate motifs and forms of rendering under Emperor Shahjahan. Dagger hilts were made in the form of animal heads; melon shaped wine-cups, peepal-leaf shaped plates with curled stem handles which were egg-shell thick. Initially during the reign of Emperor Aurangzeb (1658-1707 A.D.), the style of Shahjahan's time was continued by the Mughal lapidaries. Later the jades were more ornate with inlaid stones and metals like gold, as in the period of Jahangir.  The Mughal jades consisted of drinking cups, dining vessels, weapon hilts made from blocks of nephrite imported from Central Asia as noted. By the 18th century the craft had reached perfection in India.
Author: Soma Ghosh
Photographs: Salar Jung Museum
Web Editor: Kshitija
About the Author: Soma Ghosh is the Librarian and Media Officer at Salar Jung Museum, Hyderabad, Ministry of Culture, Govt. of India. She also curates art projects on Google Arts and Culture for museum exhibits.