2

min read
We are happy to inform you that in collaboration with Bhandarkar Oriental Research Institute, we are launching an online course on the heritage of India. Bhandarkar Oriental Research Institute is a premier name in the field of Indology. It carries 103 years' long legacy of academic excellence and meticulous research.
Kindly see the attachments for further information of the introductory course on Indian Heritage.
BATCH 3: 8 JUNE 2020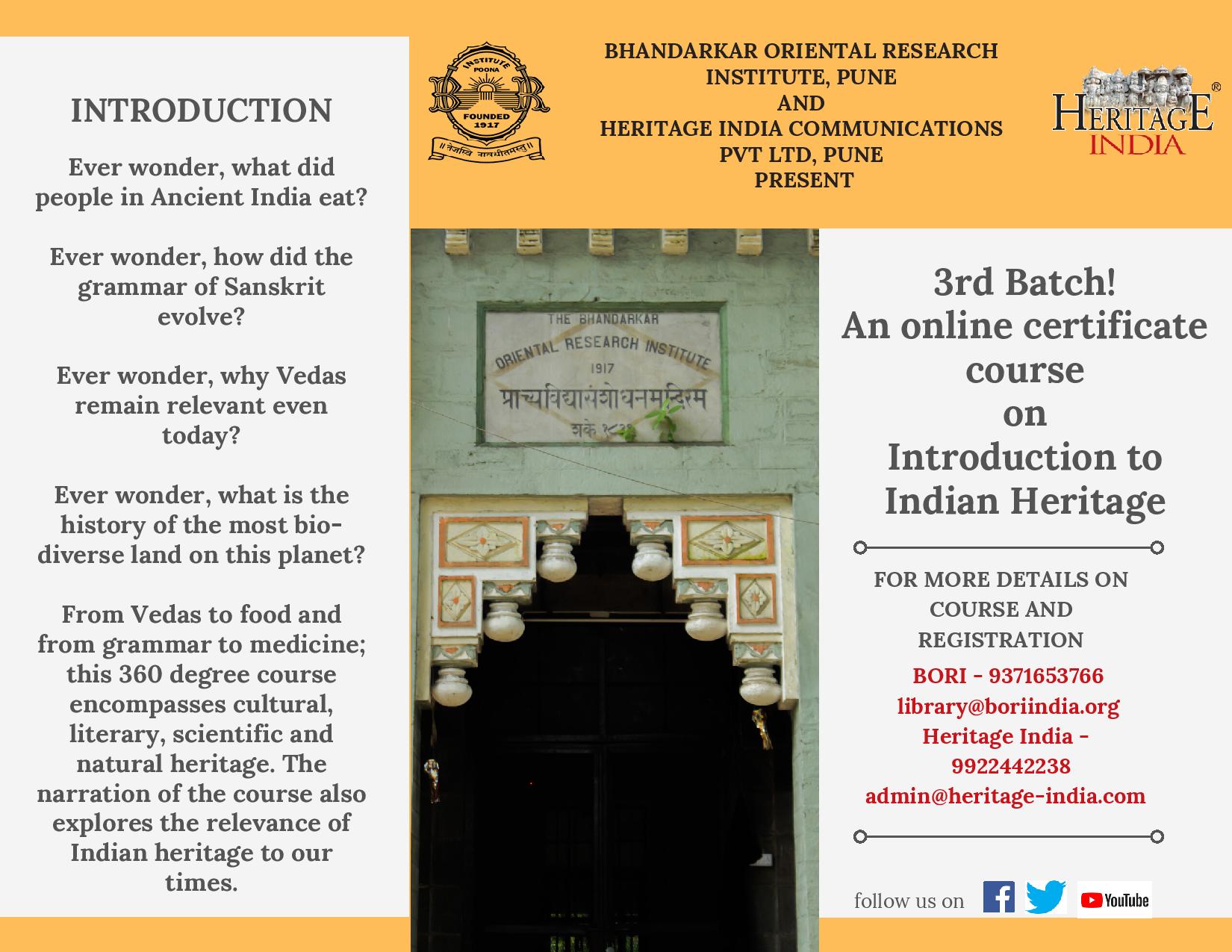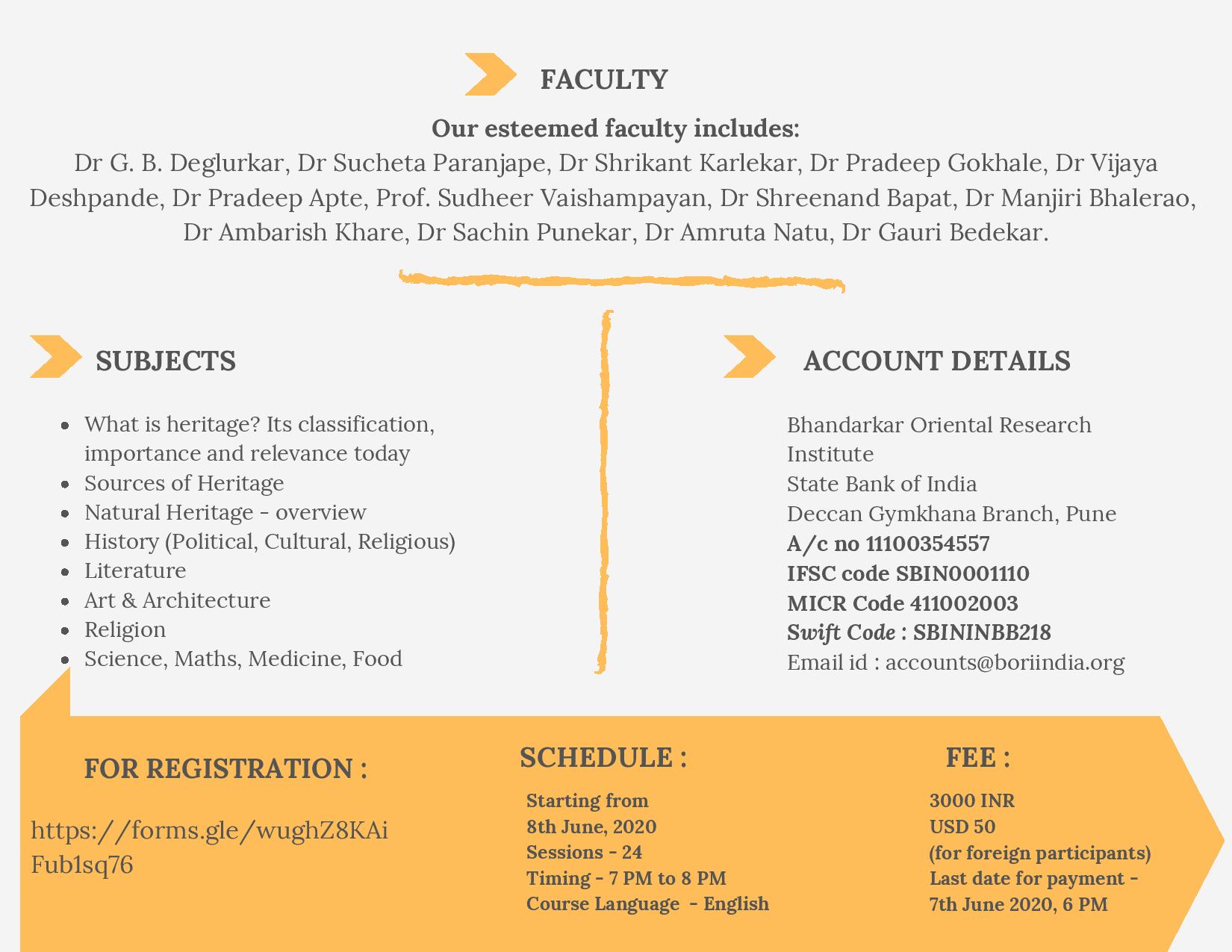 ---
PREVIOUS BATCHES:
BATCH 2: 10 May 2020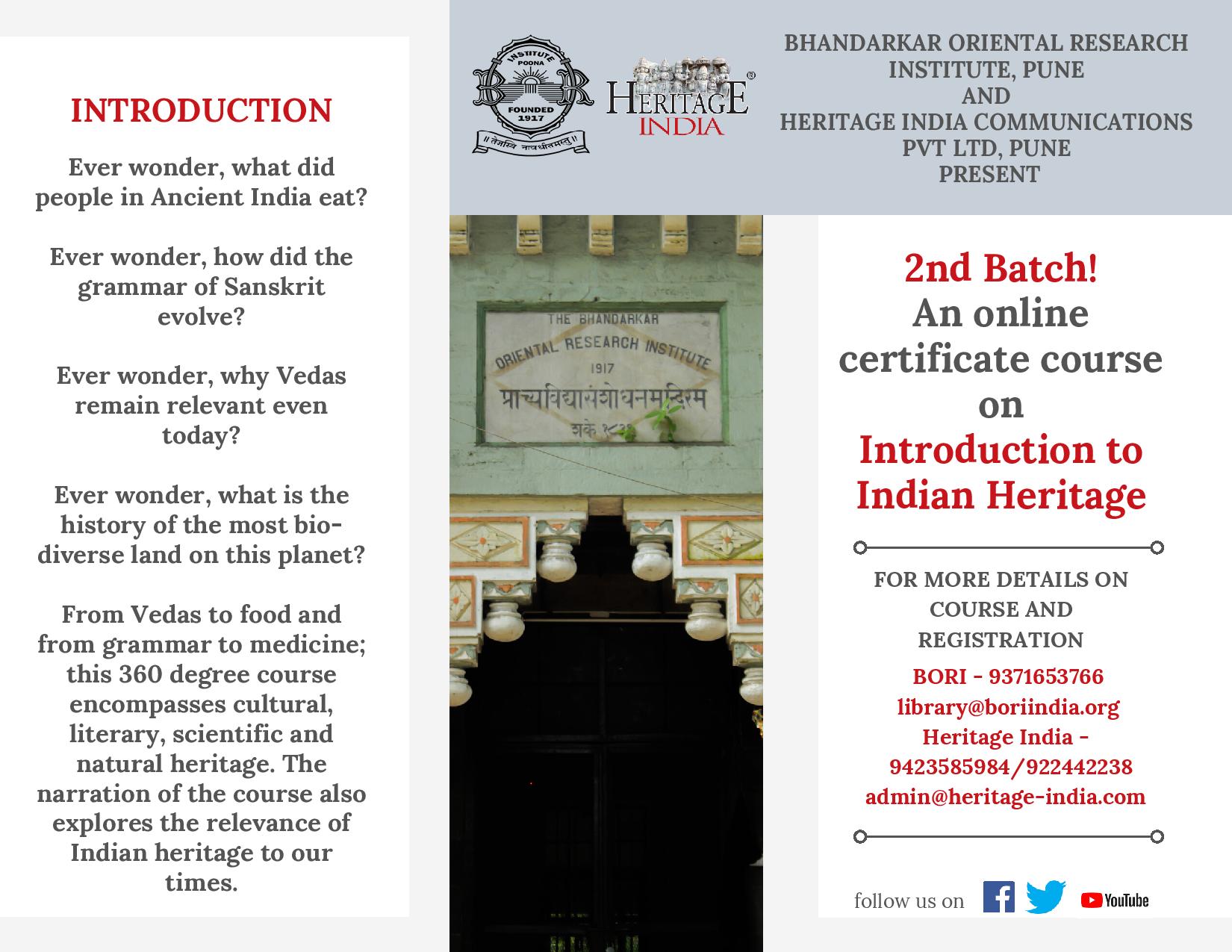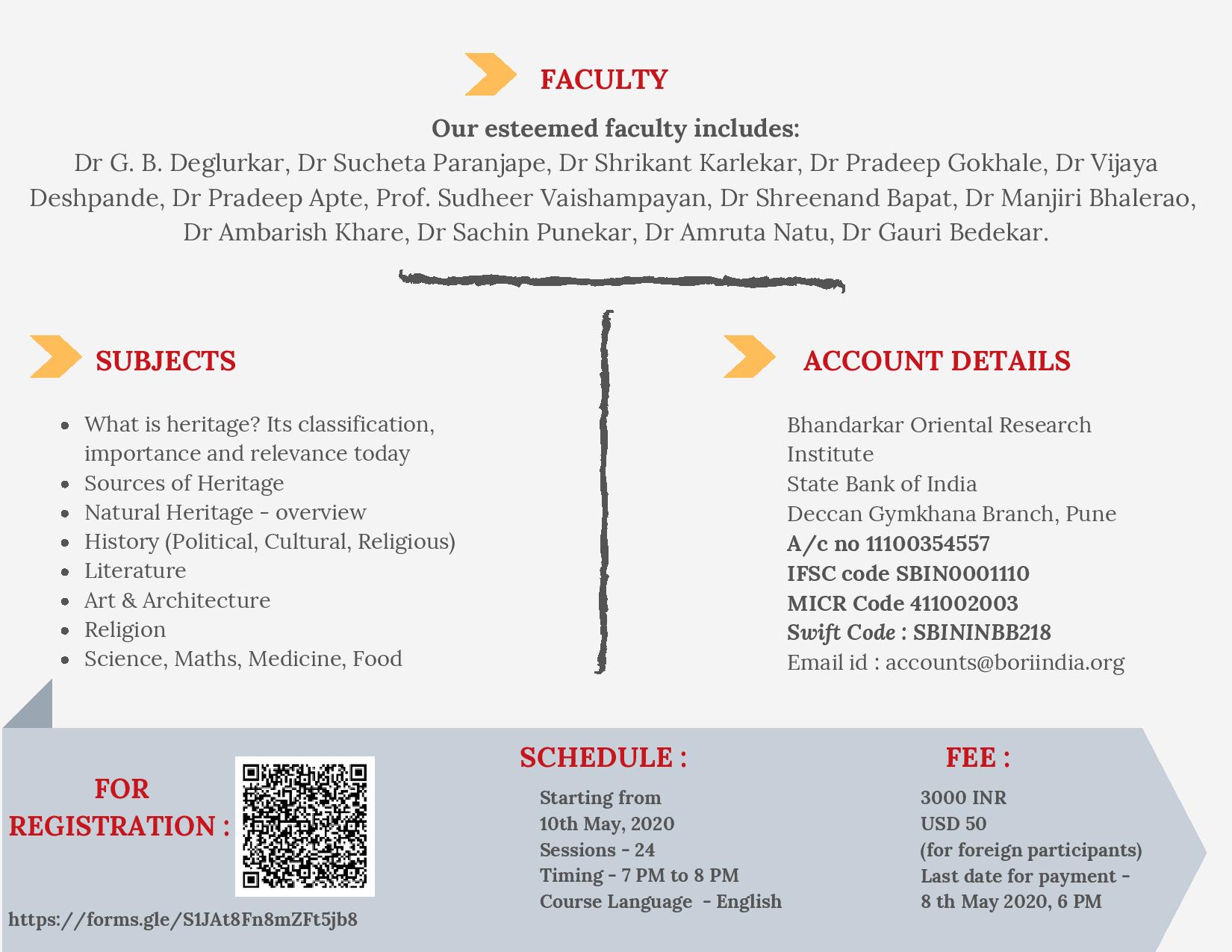 BATCH 1: 26th April 2020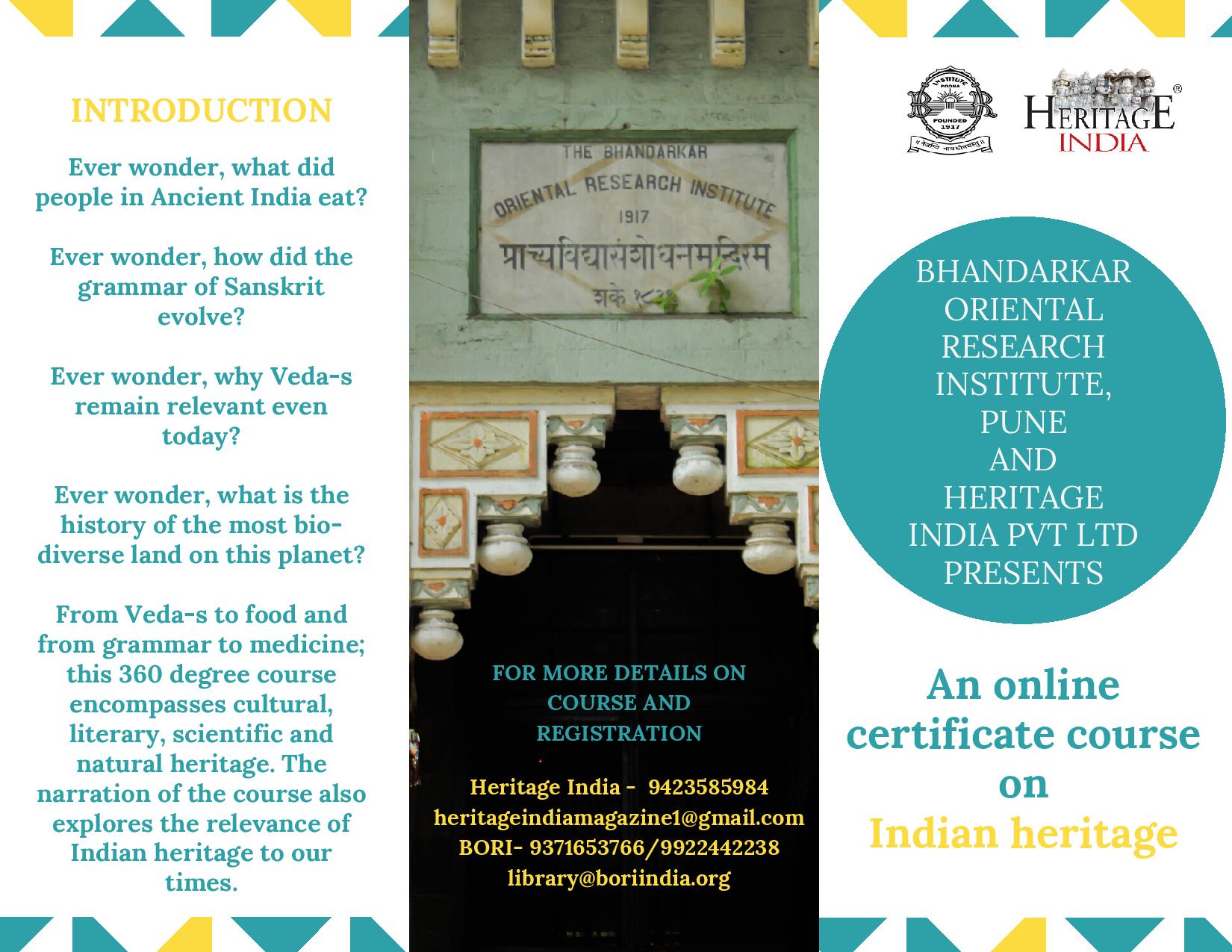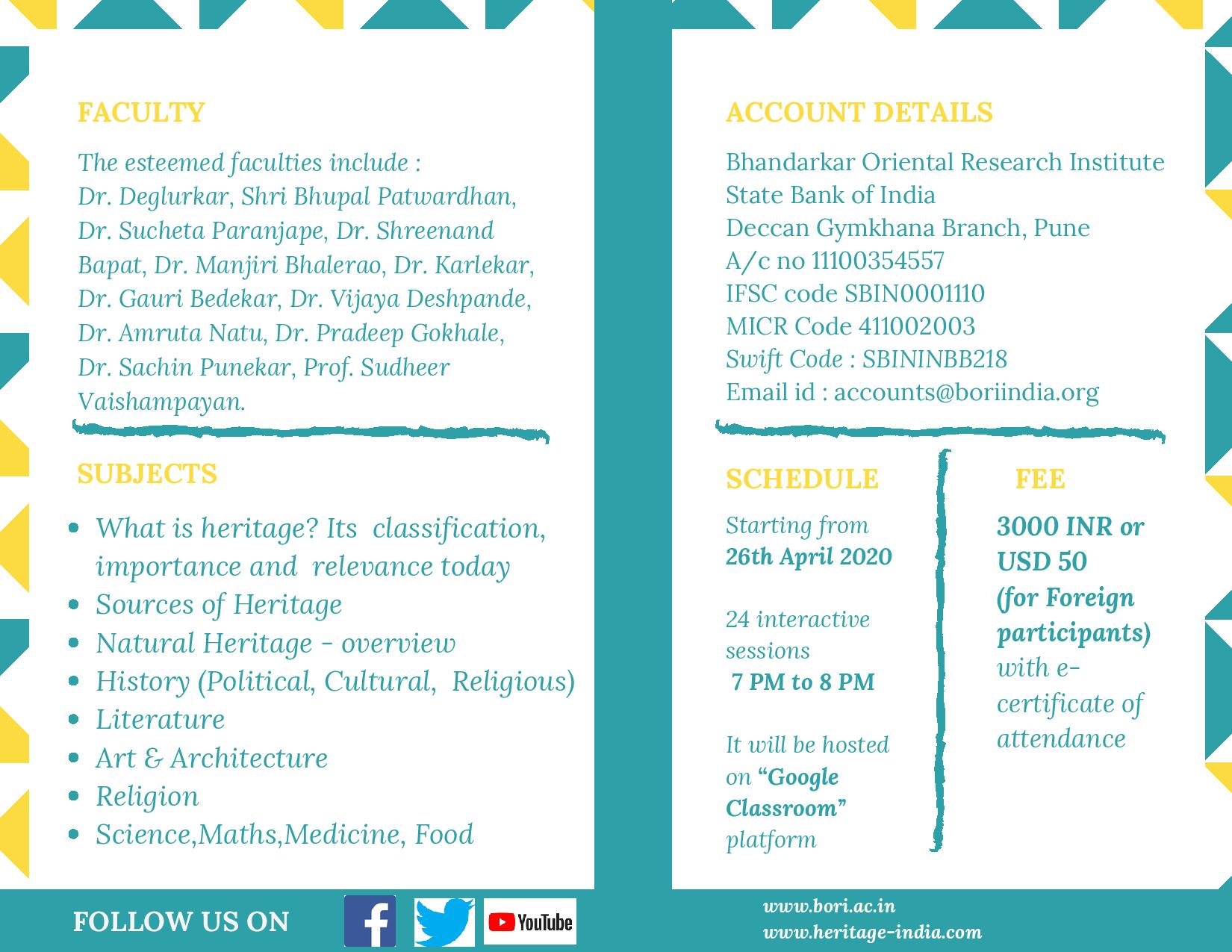 The course will start on the 26th of April and will be held for a duration of approximately 24 days.
---
Lectures will be held every evening from 7 p.m. to 8 p.m.
The following topics will be covered:
1) What is heritage? Its classification, importance and relevance today
2) Sources of heritage
3) Natural Heritage – overview
4) History of India (Political, Cultural, Religious)
5) Literature
6) Art & Architecture
7) Religion
8) Science, Maths, Medicine, Food
Scholars who will take the lectures:
Dr G B Deglurkar, Dr Sucheta Paranjape, Dr Shreenand Bapat, Dr Shrikant Karlekar, Dr Manjiri Bhalerao, Dr Vijaya Deshpande, Dr Sachin Punekar, Dr Amruta Natu, Dr Gauri Bedekar, Dr Ambarish Khare, Dr Pradeep Apte, Prof. Sudheer Vaishampayan, Dr Pradeep Gokhale, Shri Bhupal Patwardhan
Fees for the course are Rs. 3000/- or 50 USD (for foreign participants) inclusive of GST
Bank Details:
Bhandarkar Oriental Research Institute
State Bank of India
Deccan Gymkhana Branch, Pune
A/c no 11100354557
IFSC code SBIN0001110
MICR Code 411002003
Swift Code: SBININBB218
Email id: [email protected]
Kindly send confirmation number/proof once payment is done.
If you have any query, please contact on
Heritage India – 9423585984
[email protected]
BORI- 9371653766/9922442238
[email protected]