Description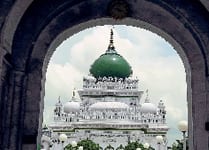 Dewa Sharif: The Seat of Devotion
Dedicated to the great Sufi saint Hazarat Haji Waris Ali Shah, Dewa Sharif is rooted in quiet splendour in the Barabanki district of Uttar Pradesh. Kamal Kishore Shrivastava explores the life of the saint and mystic peace of the Dewa Sharif.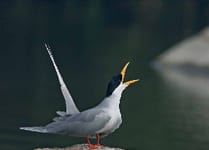 Bharatpur: A Mecca for Bird Watchers
Stunning Purple Moorhens and and Black Necked Storks flit through the brush at Bharatpur, on the outskirts of the Keoladeo National Park in Rajasthan. Veteran bird-watcher and wildlife expert Anirudh Chaoji explains why Bharatpur is such a draw for bird-watchers from around the world, and what avian wonders to look out for once you are there.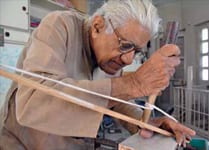 Block carving: Between sculpture and fabric designing
The ancient art of Saudagiri block printing, a bridge between sculpture and textiles has been kept alive thanks to the efforts of the artist and craftsman D V Gajjar. Sara Keller narrates the history of the wooden block, and how a simple block can create prints of unparalleled beauty.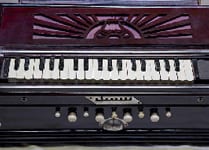 Baja Nama: The Story of the Harmonium in India
While today the harmonium is ubiquitous in its presence in Indian classical music, it was not always so. Chaitanya Kunte traces the story of the harmonium's gradual adoption by Indian musicians and their still ongoing struggle to be accepted on par with other classical Indian instruments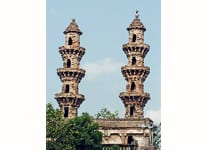 Ahmedabad: The Timeless City
Ahmedabad is home to some of India's finest 15th and 16th century architecture – great mausoleum complexes of Sultans and their Begums, exquisitely carved Jain and Hindu temples and Mughal palaces as well as some unique examples of modern and contemporary structures. Anil Mulchandani walks us through the historical centre of Ahmedabad.
The Academy of Sanskrit Research : Turning a few old leaves
The Academy of Sanskrit Research, in Melkote, Karnataka, has collected and preserved thousands of ancient palm leaf manuscripts, and is digitizing them to save their invaluable knowledge. Lakshmi Prabhala uncovers the process of making a palm-leaf manuscript and turns the spotlight on some of the lesser-known treasures of Melkote.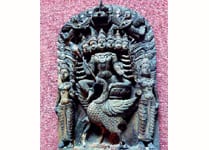 The Government Museum and Art Gallery: Chandigarh
The artefacts of the Government Museum of Chandigarh serves as a reminder of the civilisations that came long before India or Pakistan were even words in any spoken language. Parveen Brar walks us through the various sections of the museum, from the ancient era till the present day.