8

min read
Rabindranath Tagore is today more than a legend. He is, in fact, an intrinsic part of the very fabric of the Bengali identity, representative of the Bengali Renaissance and a creative genius, who managed to powerfully connect diverse cultures into a formidable humanizing force. Throughout his long and fruitful life, he engaged himself in virtually every aspect of living and touched it with his own spirit of rejuvenation.
Art, dance, literature, music, drama, education, rural development, social resurgence and a plethora of other areas were redefined by his contributions…making him as much a guiding star of Bengal as the creative voice of an entire nation – torn and subdued as it was by the inclemency of the times.
A little about him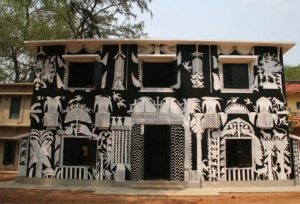 Born on the 7th of May 1861 into an aristocratic family in Calcutta, Rabindranath Tagore grew up in a household that was free from want. His family's 'business empire' (if one can use such a loosely descriptive term) had been initiated by an ancestor, Panchanan Kushari, belonging to the Khulna district, which is now in Bangladesh.
Fourteenth of fifteen children, Rabindranath grew up in a sprawling family home in north Calcutta, in an atmosphere of culture, active social life, and surging nationalism.
He started doing business with the East India Company and moved to Calcutta. Being a Brahmin, he was referred to as 'Thakur'. In time, and through mispronunciation, it became 'Tagore' – a name that was adopted without much ado. Like most young people of his age and status, he was kept mostly indoors and nurtured at home, inadvertently encouraging him to become increasingly reflective. Perhaps this, coupled with his difficulty in adjusting to school life when he was finally sent to school, added up to his reluctance to accept the tedium of following rigid methods of instruction.
When his mother passed away, he ceased attending school and started studying under private tutors at home. Among the subjects he studied were Anthropology, Science, Sanskrit, English, Bengali Literature, Painting, and Music. Apparently, he was also trained in wrestling and gymnastics.
Starting early, very early.
By the time he was eight, it was apparent that he was destined to be a poet. In fact, his first poem appeared a couple of years later in the 1874 issue of Tattva Bodini Patrika. Other poems followed in print. But, in 1878, before he could decide what he wanted to do with his own life, he was shunted off to England in the hope that he would finally study law there.
However, he was not able to complete school and returned to India after just eighteen months. He had, in that time, managed to be trained in western classical music and study literature. In 1883, he was married to Bhabatarini Devi (whose name was changed to Mrinalini). Immediately after that, she was packed off to Loreto school to be 'properly educated'. Fortunately, the poet did not get bogged down by the sheer drudgery of his family commitments and managed to find enough time to write.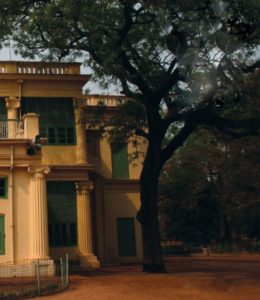 Sandhya Sangeet
This was when his first book, 'Sandhya Sangeet' was published and it was praised by Bankim Chandra Chatterjee, who apparently predicted that he would flower into a great poet. Then followed another brief trip to England and yet another family responsibility placed on his shoulders. His father sent him to Silaidaha to look after the family estates. There, his life and writing took a dramatic turn when he was faced with rural suffering.
The abject poverty and misery of the people he encountered there affected him. Until then, much of his writing had been predominantly imaginative and not necessarily rooted in the everyday experiences of survival. This raw experience of 'low living' inspired his volume of short stories 'Galpaguchha'. Other work followed swiftly.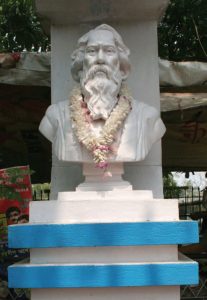 The peoples' man
Rabindranath then moved beyond creative responses towards more social ones. He started a small domestic school in Silaidaha and when he moved to Santiniketan he re-established it there. Of course, this time in a new form. It was a sort of 'ascetic boarding school' based on the ideals of the Vedic education system. This was not to last too long as financial problems began arriving one after another, attended by family issues and later even bereavement. However, he labored on, widening the scope of his original 'Vedic school' into a much broader-based socio-cultural institution.
Interestingly, the place where Santiniketan stood was once a deserted plain. Debendranath had come upon it quite by accident when he was on one of his 'getaway trips' northwards. Lying just outside the town of Bolpur, the land seemed to be barren and unproductive. Nevertheless, it offered the 'world-weary' Bengali businessman peace and tranquility.
The rediscovery and promotion of this spirit contributed to the emergence of a truly Bengali vision of aesthetics and values….the folk finally marrying the so-called upper or higher Sanskrit traditions. Bengal found itself just in the same way that Ireland did – by uncovering and celebrating its indigenous traditions.
His view on Education
With Rabindranath Tagore at the epicenter of the movement, Santiniketan became the nourishing environment in which it was possible to educate those who would keep the movement alive. The institution set the pace for a new approach to the educating experience.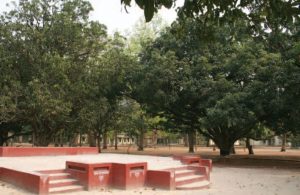 He wrote,
The educational institution, therefore, which I have in mind has primarily for its object the constant pursuit of truth, from which the imparting of truth naturally follows. It must not be a dead cage in which living minds are fed with food artificially prepared. It should be an open house in which students and teachers are at one. They must live their complete life together, dominated by a common aspiration for truth and a need of sharing all the delights of culture…For our Universities, we must claim, not labeled packages of truth and authorized agents to distribute them, but the truth in its living association with her lovers and seekers and discoverers.
His belief in the humanizing power of education lead him to write,
We have come to this world to accept it, not merely to know it. We may become powerful by knowledge, but we attain fullness by sympathy. The highest education is that which does not merely give us information but makes our life in harmony with entire existence.
There is, in all his creative and reflective writing, an acute awareness of the natural world around him. Nature, according to him, encompasses all sentient beings…not as an umbrella does but in a deeply connected way. The spirit of Nature and all creation enlivens us. His poem sequence, The Geetanjali, eloquently expresses this, seamlessly creating a beautiful tapestry of image and sound, revealing the oneness of creation. A tireless traveler, unofficial cultural ambassador for the nation of humanity and spokesperson of universal oneness, Rabindranath came to be respected as perhaps the most significant Indian of his times – a visionary and creative genius.
Neither the Nobel Prize for Literature nor the Doctorates that were bestowed on Tagore affected his dedication to his humanizing mission. In fact, so upset was he about the Jalianwala Bagh Massacre that he returned the Knighthood that the Empire had bestowed on him.
The Renaissance Man
Tagore lived through modern history's most devastating and yet exciting times and managed, however much he was involved with life, to continue to explore the unchartered territories of his imagination. After having worked in virtually all creative mediums, he came late in life to work in line and form…he sketched, drew and painted.
In fact, it all started when Tagore began reacting to erasure marks he had made on his manuscripts. He began 'decorating' them and creating patterns with them. Sometimes they would become flowing ribbons; at other times, birds and animals. This led him on to start drawing and painting. "My pictures are my versification in lines. If by chance they are entitled to claim recognition, it must be primarily for some rhythmic significance of an idea or representation of a fact." And so he continued and evolved as a painter, emerging in the glow of his life – the complete artist, the complete man, the Renaissance Man.
Today, Santiniketan remains, opening its doors to the world, providing a space and an atmosphere of learning and discovery. Though the Master has gone, his presence remains in the creative and artistic expression of students and practicing aesthetes at the institute. The creator of plays, poems, stories, dance, and music is gone, but his living legacy remains. Rabindranath Tagore has become his people. Alive in the rhythms of colour and sound, form and word.
Writer- Randhir Khare
Photographs- Susan Bullough Khare
Copy Editor- Ankita Badoni, Alice Agarwal