4

min read
Think Maharashtrian cuisine and the uninitiated conjure up images of hot vada pavs that burst with steam when you take a bite and hotter garlic red chutney to accompany it. The image – for those not in the close coterie actually blessed with Maharashtrian home-cooking – is of a culinary heritage that is robust, spicy and hot-blooded, much like our perception of the Marathas themselves. To a large extent, the image does remain quite authentic to the Maharashtrian thali (platter). Piping hot pithla (a ground, spiced flour preparation), green chilli thechas (pickles) that you can't stop picking on with your bhakri (bread) and hot Kolhapuri chicken curries.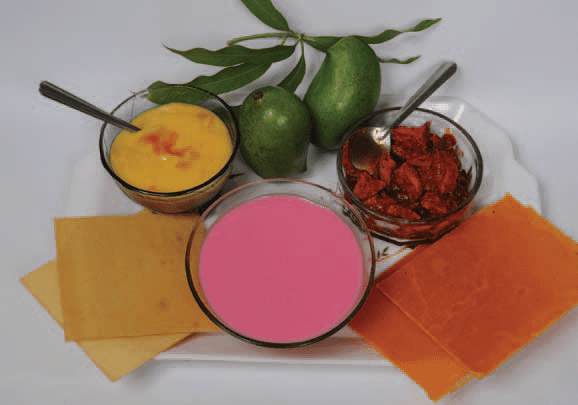 But, come summers and these dietary patterns gently transform. Summers are sweltering times in almost all areas of Maharashtra – from the dry heat in the plateaus of Nagpur and Aurangabad to the Sahyadri Ghats' scorchers to the humidity of the coastal Kon-kan. Obviously, the Maharashtrians do well to gradually prod their meals to cooler, gentler foods. When summer sizzles, the state goes seasonal in its diet. Mangoes make their appearance, not only as the 'king of fruits' to be devoured in the form of the Alphonso but also in drinks, pickles, lentils and desserts. Apart from mangoes, the coastal regions see a pronounced use of kokum in their diet. Here we take a look at the most popular Maharashtrian summer cook-ups:
Vatli Dal (Kairichi Daal)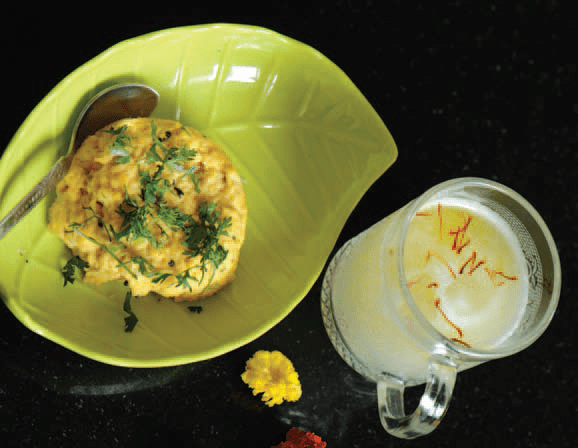 Another Maharashtrian summer specialty is the kairichi dal or traditionally known as the vatli  (meaning ground) dal. In fact, it is the making of this lentil at home that marks the beginning of spring and the month of Chaitra, the first month in the Marathi calendar. This spiced dish is served with chilled kairi panha and eaten throughout summer. It is often eaten during the haldi-kumkum ceremony where young girls and women are invited to partake of the healthy summer specialty. The vatli dal uses chana dal (yellow gram) as its base and a couple of raw mangoes plus a tempering of garlic, chillies and spices.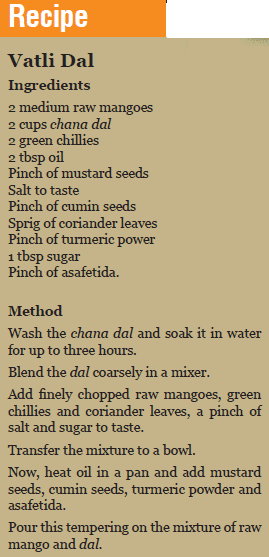 Kairiche Panhe
Kairi Panhe is also a Maharashtrian summer favourite. Kairi, the Marathi word forthe Hindi aam (mango) plays the leading lady here. The panhe is made from raw green mangoes during summer as a healthy, quick thirst-quencher against the carbonated colas to fight the intense Western sizzling summer.  Rich in sodium chloride (with its generous dash of rock salt) and iron, lost in our bodies due to sweating and dehydration, the panhe is a relief from summer fatigue and even heat-strokes.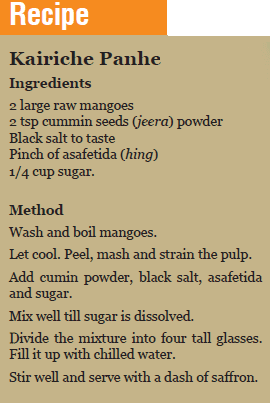 The Raw Mango Story
Raw mangoes are known for their heat-resistant properties making them a favourite for the refreshing pale-green beverage. The green, unripe mango is a rich source of pectin. This chemical gradually diminishes after the formation of the central seed in the mango as it ripens. It is the very sourness of the raw mango that is healthy – it speaks of the strong presence of oxalic and citric acids. Raw mangoes are also known to be an excellent source of vitamin C that helps in the formation of new blood cells and aids other blood-related disorders.
Other Summer Specials
Aamrakhand: This is a contemporary and popular version of the traditional srikhand. Aamrakhand adds fresh sweet ripe mango pulp for that delicious juiciness. Aamras Poli: Sweetened mango pulp goes great with Maharashtra's traditional poli (bread). Aamras is full of anti-oxidants and anti-inflammatory agents and is also high in iron.
Mango Lassi: Again, this is a contemporary twist to the favourite milk-based drink of lassi. This one too adds fresh mango juice to a lassi for a deliciously smooth mango drink.
Kairiche Lonche: Maharashtra's pickles are well-known for their spice as well as their bite. And summers are pickling season. The mango pickle here could be made in the red spiced oil-based variety that's the common popularity or a more subtle sesame and turmeric variety that uses tiny but whole raw mangoes.
Aamba Poli and Fanas Poli: Dried pancakes of mango / jackfruit juice. A favourite among children, these delicacies last long allowing us to enjoy the seasonal fruits any time of the year.
Author: Ashishwang Godha
Photographs © Sachin Naik
Source: Maharashtra Unlimited Vol 1 Issue 1 (April 2012)
Web Editor: Kshitija Pande