7

min read
In celebrating divine love, the festival of Teej also strengthens marital bonds and the joy of devotion and togetherness. Heralding the rainy season, the festival conspires with Nature to offer devotees fecundity and bliss.
It is that time of the year when sky is cloudy and the weather is pleasant. Soon the first drops of rain drench the parched earth and the sweet aroma of the wet soil rises in the air. Nature rolls out a carpet of verdant green and fragrant flowers bloom in luxuriance. The peacock flaunts its beautiful plumage and dances in high spirits, in an expression of mirth and joy. So also, the Rajasthani women sing songs, swing in jhoolas and dance to their hearts' content in celebration of the Teej. The Teej Festival – marking the advent of monsoon – falls in the month of Shravan (Spring Season) and occupies the first place among all Rajasthani festivals. While married women celebrate Teej to win their husbands' love, the young girls worship Goddess Parvathi with a firm belief that this will bring them good life partners.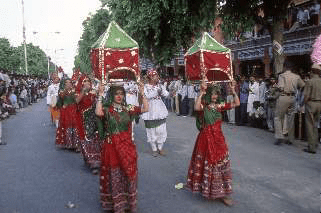 Just like any other Indian festival, the Teej has many dimensions to it. It fosters the feelings of love and affection between the married couples and also strengthens their relationship. Ghewar a special sweet delicacy is prepared in homes. Grandmothers, mothers, sisters and daughters all sit together to relish a lavish feast, because the rigorous fast has to begin at midnight. Women wear red coloured clothes (signifying their marital status) and apply Rajasthani Mehndi (Henna) on their hands and feet and create beautiful intricate patterns with it. Often they hide the names of their husband in the complex Mehndi designs which he is later asked to find out. Husbands find their hidden names and offer gifts to their wives.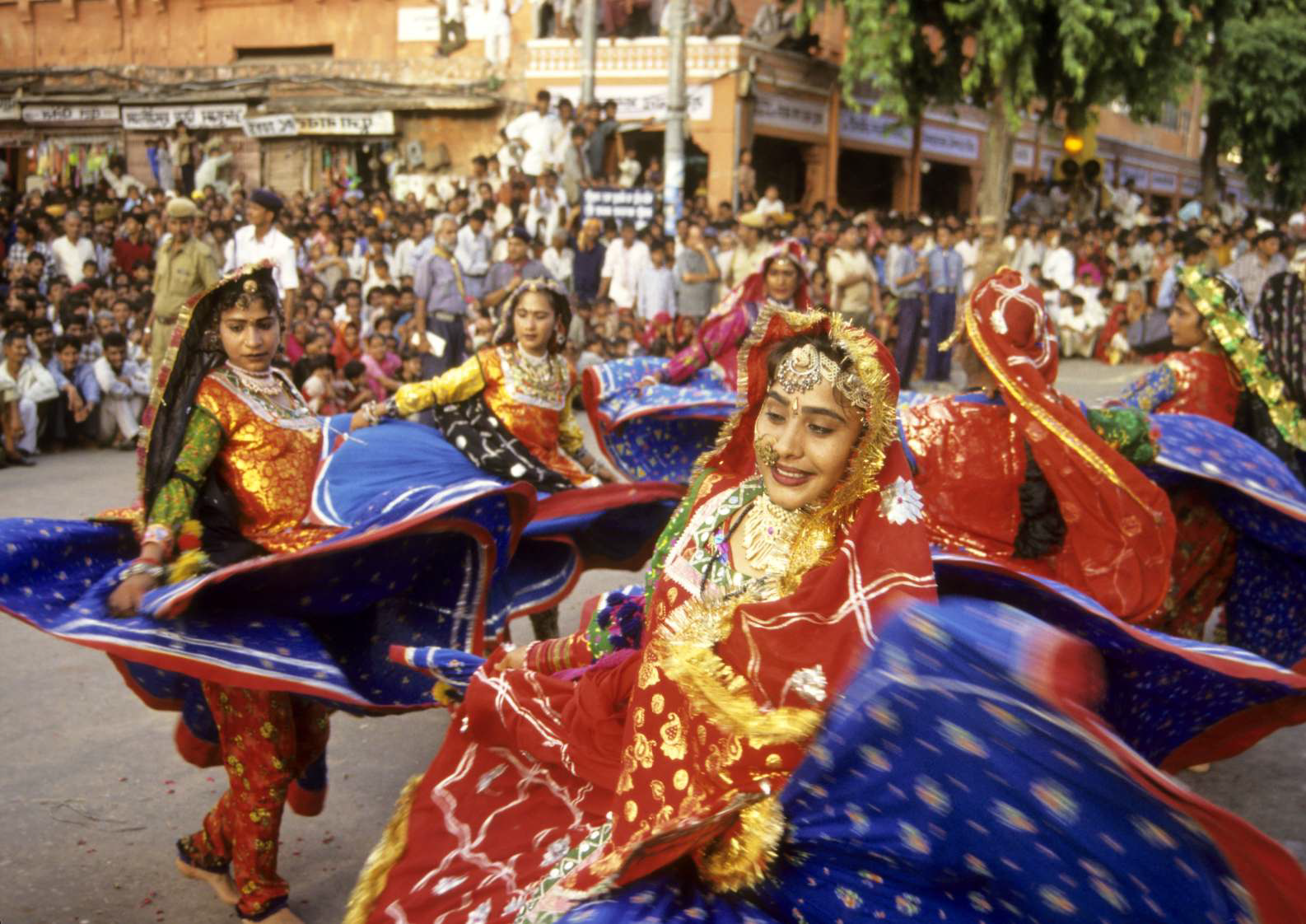 A very important part of the Teej festival is Teej Pooja for which scores of women assemble in temples and gardens. Flowers, sweets and coins constitute the main ingredients of Pooja. The idol of Goddess Parvathi is placed in the centre of a semi-circle and a single woman or all the women together narrate the Teej Katha, a story that commemorates the union of Shiva and Parvathi.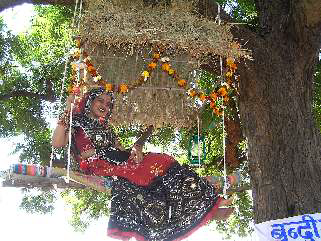 A huge fair namely Saawan Mela is organized on this occasion. Large number of shops, selling crafts, handicrafts and food items spring up all over the mela. People perform dances, sing songs, enact dramas, make merry and create a joyous mood. The whole city transforms into a hub of entertainment. Many competitions like turban-tying and application of mehndi designs are organized. In Rajasthan's cities, even the foreign tourists participate in these festivities and take back happy and sweet memories to cherish forever. The Teej celebrations come to an end with the Teej procession.
HARIYALI TEEJ, KAJARI TEEJ & HARTALIKA TEEJ
The dates of Teej are decided according to the arrival of monsoon and so they keep changing every year. Though there are three different variations of Teej, their basic essence remains the same.
The first one is Hariyali Teej (also called Teejen) that falls on 3rd day of new moon in Shravan month. Hariyali means 'green grass. This festival celebrates the abundance of greenery. Womenfolk attire themselves in green costumes, wear green bangles and worship the moon (Chandra Bhagavan) by offering milk, curd and flowers. Hariyali Teej is celebrated with lot of gaiety and enthusiasm in Jaipur.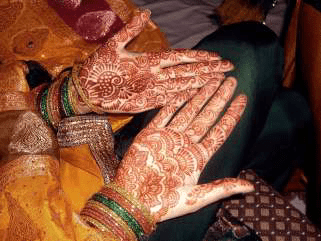 The origin of Teej festival is steeped deep in a Hindu legend. Goddess Parvathi went through hardcore penance and took 107 births to take Lord Shiva as her husband. It was only in the 108th birth that Lord Shiva realized her devotion and accepted her as his wife. Goddess Parvathi declared that moment as highly auspicious for the womenfolk and proclaimed that whosoever invokes her on this day will be blessed with a long and happy married life
The second Teej is Kajari Teej or Kajali Teej which is observed on the third day after Shravan Purnima. Songs sung on the day welcome monsoons and praise the love of Krishna and Radha. Women assemble and sing songs praising the love of Krishna and Radha. Then they perform sacred Pooja of Neem tree. It is celebrated with maximum cheerfulness in Bundi (see box Bundi's Kajali Teej).
The third one Hartalika Teej is celebrated mainly by daughters-in law on the third day of the first fortnight in the month of Bhadra. Married ladies return to their parents' home to celebrate the festival and receive gifts. On this occasion an idol of Goddess Parvathi, clad in bright colorful clothes is taken out in a procession. Women adorn themselves in green colored clothes, wear a golden bindi and apply a thick layer of Kaajal. Hartalika Teej of Marwar (Jodhpur, Pali & Nagaur region) is famous for its riot of colors.
JAIPUR'S HARIYALI TEEJ
Jaipur has a long tradition of holding a picturesque, vibrant and colorful Teej pageant since many centuries. Col. James Todd gives a picturesque description of the Teej Procession on page 462, Chapter XXI, Vol.I (Edition 1829 A.D) of his monumental work ANNALS AND ANTIQUITIES OF RAJASTHAN
'Red garments are worn by all classes on this day, and at Jeipoor [Jaipur], clothes of this colour are presented by the Raja to all the chiefs. At that court the Teej is kept with more honour than at Oodipoor [Udaipur]. An image of Parvathi on the Teej, richly attired, is borne on a throne by women chanting hymns, attended by the prince and his nobles. On this day, fathers present red garments and stuffs to their daughters'
The grand Teej procession is locally known as Teej Maata ki Sawaari. The whole city of Jaipur gets soaked in the colors of Teej, glows in colourful lights and reverberates with sounds of bhakti and devotion. The Teej idol is taken out from the holy place, many days in advance. Then it is freshly painted in bright colors and bedecked in pure gold ornaments and fine jewellery.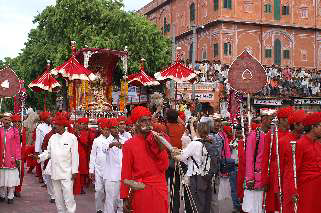 BUNDI'S KAJALI TEEJ
Bundi's Kajali Teej is so named because it is celebrated on the third day after the full moon in the Krishna Paksha. It is one of those rare Hindu festivals, which fall in the days of the waning moon, and there is an interesting legend behind it. Thakur Balwant Singh of Gothda was once sitting with his friends. One of them remarked that it would be good if Teej were to be celebrated in Gothda as it is celebrated in Jaipur. On hearing this Balwant Singh set off to Jaipur with 15 of his best friends. On that day, Teej was being celebrated in Jaipur. Balwant Singh attacked the procession and carried off the idol of Teej to his village, Gothda. The journey must have taken 5 to 10 days, as Balwant Singh then took out a Teej procession in his village on the 3rd day after the full moon in the month of Bhadra, i.e. 15 days after the Teej celebrations in Jaipur.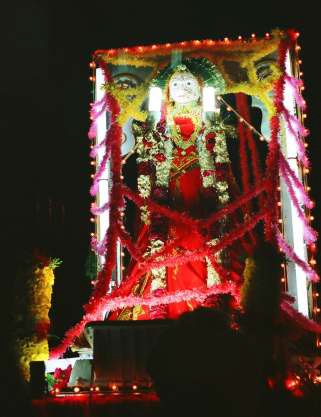 Though the main function of Bundi Teej is held only on two days, the celebrations continue up to Janmashthami, which marks the birth of Lord Krishna.
Author: Masarrath Ali KhanCopy Editor: Randhir Khare (Magazine), Kshitija Pande (Web)Source: Heritage India Vol 1 Issue 4 (2009)