Who doesn't enjoy a story well-told?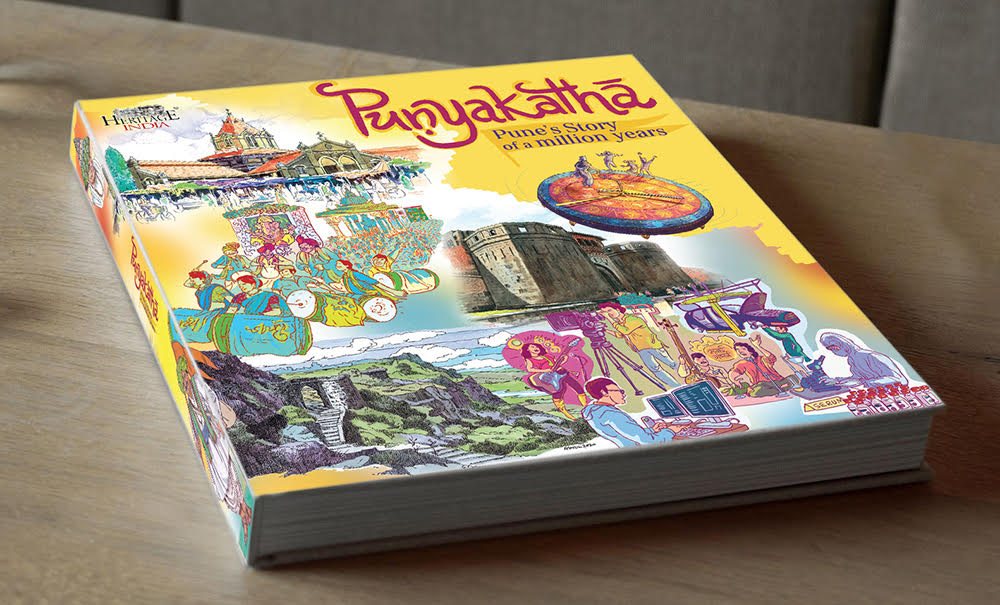 Most especially a delectable one replete with the navarasas of drama, intrigue, romance and adventure! On the joyous occasion of our 75th Independence Day, Heritage India is happy to announce "Punyakatha"- Pune's Story of a Million Years– a children's book cum family encyclopedia on the historical city of Pune. The work marks Pune's transition from a Stone Age settlement to a hugely reputed cultural, educational and economic hub on the verge of megapolism against the backdrop of India's most prosperous state Maharashtra.
How to Book?
1.    Depending on your location (within Pune, Out of Pune Within India, Out of India) choose your payment method given below and complete the payment.
2.    Fill the google form given below so that we can have your contact details and be able to send you the copy asap! 🙂
Within Pune:
Price: Rs. 3000 + Instamojo charges (No postage charge within Pune city)
Payment link: https://imjo.in/PHRPsq
*
Out of Pune within India:
Price: Rs. 3000 + 150 (shipping charges) = Rs. 3150
(Only Online bank transfer. Do not use Insta mojo link)
Bank details:
Account Name: Heritage India Communications Pvt Ltd
Account Number: 50200018078701
Bank: HDFC Bank, Kalpataru Gardens, Boat Club Road, Pune – 411001
IFSC Code: HDFC0000039
*
Out of India:
70 USD / 95 AUD /60 Euros / 50 Pounds / 225 Dirham
(This includes postage to the respective country)
(Only Online bank transfer. Do not use Insta mojo link)
Bank details:
Account Name: Heritage India Communications Pvt Ltd
Account Number: 50200018078701
Bank: HDFC Bank, Kalpataru Gardens, Boat Club Road, Pune – 411001
IFSC Code: HDFC0000039
*
Once the payment has been made, please fill the google form following the link below:
https://docs.google.com/forms/d/e/1FAIpQLSf7CAm1Yb6RUZWtAowbFDUf6OZEFhANOx8l3NGiuNKn4Xw2-Q/viewform?usp=pp_ur
*
For any other queries:
Email : [email protected]
Call : 9423585984