An Indologist Par Excellence – Bharat Ratna MM Dr. P. V. Kane
The life account of Bharat Ratna MM Dr. P. V. Kane (1880–1972) is not just fascinating for his ability to achieve the pinnacle of success as an academician and lawyer but also for the fact that his contribution in the field of Indology has spurred the momentum of research that is now being carried on by those who have followed in his footsteps
It is not often that one comes across stories of people who have had a strong vision and mission guiding their entire life. Dr. Pandurang Vaman Kane is one such person who never let his interest in research fade the slightest. Born in a village called Pedhem near Chiplun in the Ratnagiri district of Maharashtra on May 7, 1880, he completed his schooling at Dapoli in S.P.G. Mission's English School.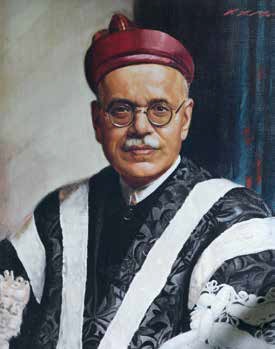 Born in a priestly family, he was well-acquainted with Sanskrit right from his childhood. He had learnt by rote the 400 verses of the famous Sanskrit thesaurus, 'Naamalingaanushaasana' or 'Amarakosha', when he was just 12 years old. He passed his matriculation examination in 1897 and then proceeded to join Wilson College, Bombay. Completing his B.A with Sanskrit, he was awarded the illustrious Bhau Daji Prize. He also went on to get a degree in Law with a first class in 1902, followed by M.A in Sanskrit and English in 1903. Due to the urgent domestic need of earning money he took on a job as an assistant teacher in the government high school of Ratnagiri in 1904. Further, he received the coveted Mandlik Gold Medal of Bombay University for his essay on Aryan manners and morals depicted in the 'Ramayana' and the 'Mahabharata', submitted in 1905. He was rewarded with the same medal again in 1906 for his essay on the history of Alamkara literature. At around this time, he requested for a transfer to the Elphinstone High School and started teaching there from 1907. He continued his studies in law, thereby procuring a second LL.B. in. In 1909, he was appointed Professor of Sanskrit in the Elphinstone College.
From Academics to Law
A career in academics was what seemed destined for Dr. Kane. He, however, resigned from the job soon, opting instead for a practice in law on the Appellate side (a court to which appeals are made on points of law resulting from the judgment of a lower court) of the High Court of Bombay. In the meantime, he published two books, 'Gadyaavali' and 'Sahityadaprpana' in the following two years. In 1911, he registered himself as Vakil of the High Court and also obtained a post-graduation degree in law, specializing in Hindu and Mohammedan Law in the same year. While concentrating on his blossoming practice as a lawyer, he managed to deliver six Wilson Philological Lectures on Sanskrit, Prakrit and allied languages in the Bombay University during the next three years. The University then appointed him as a Springel Research Scholar in 1915.
While engaged with his studies, he worked on the Ancient Geography of Maharashtra and from 1917 to 1928 offered his services to the Government Law College as Professor of Law. He soon received fame from the Bar as well as the Bench as an eminent and promising lawyer working in Hindu Law. The judiciary recognised him especially for his interpretations of the original law texts in Sanskrit. However, this full-fledged career in law could not restrict Kane from his pursuits in Indology. He used to visit the library of the Bombay Branch of the Royal Asiatic Society (now renamed The Asiatic Society of Mumbai) continuously for his studies with utmost sincerity and devotion.
Abiding Interest in Indology
On the request of the renowned Orientalist Sylvain Levi of France, Dr. Kane brought out, in 1923, the second edition of the 'Sahityadarpana' – an introduction dealing with Sanskrit poetics in a thesis of 177 pages. This was enlarged to 423 pages in 1951 and was subsequently published as a separate volume in 1961. Dr. Kane's research of the Dharmashastra, now considered as his magnumopus, actually began in 1911 while editing the 'Vyavahaaramayukha' on the advice of Prof. R. Bhandarkar, one of the general editors of the Bombay Government Sanskrit Series.
This edition, published in 1926, brought him the reputation of an authority in the field of textual criticism. The first volume of 'History of Dharmashastra' was published in 1930. The initial objective was to publish the work in two volumes but this later led to a colossal series of five volumes.
Led by a brief historical account in the first volume, the second one published in 1941 covered topics like Varna, ashrama system and Samskaras. The third volume in 1947 dealt with Rajadharma, Vyavahara and Sadachara. Dr. Kane was 67 years old at that time. The fourth volume published in 1953 took into account all the works and manuscripts related to the Dharmashstra. The final volume appeared in two parts: first in 1959 and the second in 1962. He had by then crossed the 82nd year of his life. It is important to note here that all the work done over the years was without having the support of research assistants, stenographers, documentation assistants or any of today's modern publishing technology.
History of Dharmashastra (Ancient and Mediaeval Religious and Civil Law in India), published by the Bhandarkar Institute of Oriental Studies, Pune, is considered as the magnum opus of MM Dr. P. V. Kane. The work consists of more than 6000 printed pages. It portrays a complete picture of social and religious life of ancient and mediaeval India. It took 37 years to complete the gigantic task. Dr. Kane used to write the first draft by hand, collect 100-odd pages, reread and redraft those and would then get it typewritten from his neighbour, Mr. G. R. Barve. After three proof-readings by the author himself, some other Sanskrit scholar from Pune would check it once and make corrections (not in the matter, but only in the punctuation and diacritical marks). These corrections, if accepted by Dr. Kane, would be incorporated and sent to the press as final proof for printing.
Accolades Aplenty
Over the course of his career, Dr. Kane received many honours because of his monumental work and research in ancient Indian culture. He was a Fellow of the University of Bombay from 1919 to 1928;  was awarded the Campbell Memorial Gold Medal in 1941 by the Bombay Branch of the Royal Asiatic Society and also as served as its Vice President. He was conferred the prestigious title of  'Mahamahopadhyaya' by the British Government and Honorary D.Litt. by Allahabad University in 1942. The then Chief Minister of Bombay State, B. G. Kher, persuaded Dr. Kane to assume the post of the Vice Chancellor in 1947.
After two years, however, Dr. Kane declined to continue so that he could devote more time to his research in Dharmashastra. Dr. Kane was also appointed the president of the All India Oriental Conference held in Nagpur in 1946 and the Indian History Congress at Waltair in 1953. He was a member of a delegation sent in 1948 by the Government of India to the International Congress of Orientalists held in Paris. He also led the delegation of this Congress held in Istanbul in 1951 and a session at Cambridge in 1954. In 1951, Prof. B. C. Law instituted the Mahamahopadhyaya P. V. Kane Gold Medal at the Bombay Branch of the Royal Asiatic Society. The London School of Oriental and African Studies offered him its honorary fellowship in 1952. The Sahitya Akademi awarded this eminent research scholar a prize for his fourth volume of 'History of Dharmashastra' in 1956.The president of India nominated Dr. Kane as a member of the Rajya Sabha in 1953 and 1958. He was also granted a certificate of merit and annuity on August 15, 1958. Dr. Kane was then appointed as National Professor of Indology in 1959. He received the Bharat Ratna, the highest civilian award conferred by the Government of India, in 1963. It should be noted that he is the only awardee from the state of Maharashtra to receive this honour for his academic contribution. Further, Dr. Kane was associated with many institutions such as Marathi Granth Sangrahalaya, Bombay as the vice president of the Niyamak Mandal; Marathi Samshodhan Mandal as its chairman; Pune's Bhandarkar Oriental Research Institute as its founder member; Lonavala's Dharma Nirnay Mandal as a member; and Prajna Pathashala in Wai as a member. Dr. Kane was a strong protagonist of the codification of Hindu Law with a rational approach. As the chairman of the Brahman Sabha, he allowed the untouchables to participate in the Ganesh festival of the Sabha, thereby attracting the ire of many of its orthodox members.
An Inspiring Figure
Dr. Kane was lucky enough to achieve threefold triumph: an active academic career (ranging over seven decades); recognition with prizes and awards; and a long life. He passed away at the age of 92 on April 18, 1972. This stalwart and distinguished academician of Sanskrit and Indology had to his credit 19 books and monographs, 66 articles, and 34 review articles. His literary output measures over 15,000 printed pages. His contributions are marked by an extensive sweep of his research interest and activity in the domains  of Mimamsa, Dharmashastra, Indian astronomy and astrology, Sanskrit poetics, and the Indian jurisprudence. His highly revered contribution to Indology; consistent devotion to Sanskrit learning; and his philosophy of simple living with high thoughts will surely make his life a source of unending inspiration to generations of young Sanskritists and Indologists.
Author: Dr. Ambarish Khare
Photographs © Sachin Naik
Courtesy : Dr. Shantaram Kane, Sharda Paranjpe, Vijaya Kale, Vijay Rikame, The Asiatic Society of Mumbai
Source: MAHARASHTRA UNLIMITED | October-December 2013, Vol. 2